Scan to Download ios&Android APP
What is flux coin?
An alternative to mainstream cloud infrastructure providers
Flux crypto price prediction
FAQs
By Yoke Wong
Edited by Vanessa Kintu
16:42, 14 December 2021
Have a confidential tip for our reporters?
Get In Touch
Cloud infrastructure cryptocurrency flux coin price spiked last week following its listing on one of the top cryptocurrency exchanges, Binance, amid growing interest in Web 3.0 projects.
Binance listed flux coin for trading on 10 December, signalling the market's acknowledgment of the token's credential.
Binance also announced that it would list FLUX crypto on its platform and open trading for FLUX/USDT, FLUX/BTC, and FLUX/BUSD. For deposits and withdrawals, Binance exchange will only accept ERC-20 and FLUX BEP-20 tokens.
Following the announcement, the flux coin price surged to an intra-day high at $3.96 on 10 December, more than triple the price of $1.22 on 9 December. Prices have since fallen to $1.38 at the time of writing on 14 December, but the flux coin value is still 70 times higher than the price at the beginning of the year.
Flux coin prices have been rising since early this year, breaking above 10 cents from mid-March. The up-trend continued and the coin rose above $0.50 in the third quarter.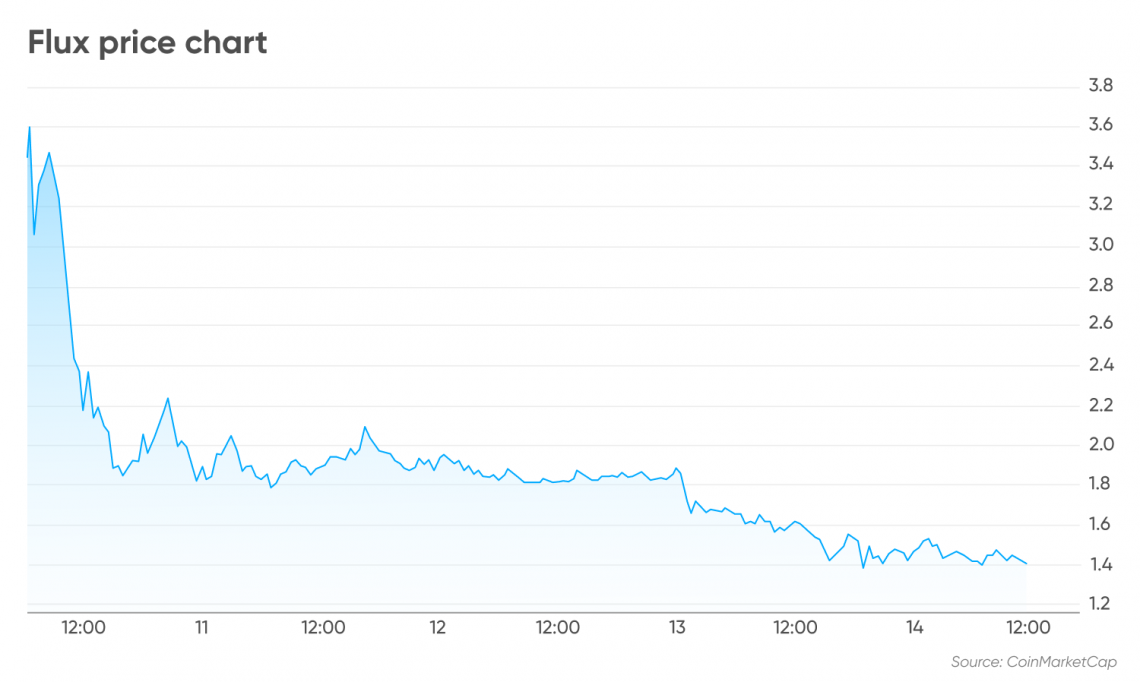 Are you interested to learn more about flux cryptocurrency? Read this analysis to learn more about the latest flux coin news and analysts' Flux token price prediction.
Formerly known as Zelcash, the cryptocurrency was rebranded as Flux on 27 March 2021.
According to cryptoasset price-tracking website CoinMarketCap, flux has a supply cap of 440 million coins and circulating supply of 221.55 million coins. The flux market cap is $306.5m.
The lux cryptocurrency is a native utility coin to facilitate the operation of the Flux ecosystem – a suite of decentralised computing services and blockchain-as-a-service solutions for cloud infrastructures.
"Flux is a fair-minded, proof-of-work cryptocurrency that acts as a utility asset for onboarding to the ecosystem and powering the transaction of information across the ecosystem," states the cryptocurrency's white paper.
"The asset also acts as the main incentivisation for operating a FluxNode: enterprise-grade server hardware powering the ecosystem."
Flux mining uses a proof-of-work (PoW) protocol, where computational power from a graphic processing unit (GPU) is used to solve the consensus algorithm in Blockchain technology. In addition to attaining the token on exchanges through trading, flux is also given to users "as rewards for operating nodes" on the network and for mining. The native utility token can also be used to pay network fees.
"As the project and network grow, the value of flux will more than likely increase as its utility is leveraged by projects with new use cases," said the operator.
Although other major fiat and cryptocurrencies are accepted for transactions on the Flux platform, its native utility coin will be "highly encouraged" as the currency for commerce on the network, and "customers using flux to purchase distributed computing power will receive substantial discounts," added the Flux white paper.
The Flux platform was launched as a decentralised alternative to cloud infrastructure providers such as Amazon Web Services (AWS) and Google Cloud.
GME
AAPL
GOOG
TSLA
Flux also aims to be the leading decentralised cloud infrastructure provider compatible with Web 3.0 – an emerging fully decentralised internet.
The platform is powered by FluxNode infrastructure, which are run by individual flux holders. Nodes are decentralised digital ledgers that record and verify all cryptocurrency transactions. In contrast to other projects, FluxNodes are available to be operated by anyone with the required utility token and hardware. As a result, the geographical locations of the nodes are distributed globally. According to the platform, there are 2,319 nodes in operation at the time of writing on 13 December.
Flux claimed the characteristics of FluxNode will provide additional security and privacy for its users.
"As Web 3.0 blockchain and crypto projects are becoming increasingly popular, the FLUX crypto could gain momentum as it acts as a decentralised alternative to Amazon Web Services (AWS) platform," wrote financial journalist Raza Naqvi on Kalkine Media.
Following the outage on AWS on 7 December, investors are increasingly looking at alternative providers who could reduce the world's dependence on the dominant tech companies.
"Web 3.0 promises to solve this dependence through decentralisation. Its advocates want to move away from an internet dictated by the largest tech companies – Alphabet, Amazon, Meta Platforms, Microsoft and Apple," wrote US-based independent financial research firm InvestorPlace.
InvestorPlace listed the three Web 3.0 cryptos that support the development of the new decentralised internet:
Flux
BitTorrent
Ocean Protocol
InvestorPlace said the tools and products on Flux network made the platform "a force to be reckoned with among cloud computing plays like AWS or Alphabet's Google Cloud".
"Investors are taking note, too. In the first week of October, trading volume averaged about $1m worth of FLUX per day across exchanges."
With the increased attention on Flux, several analysts are expecting prices to continue to rise, though the forecast range varied widely among the analysts we looked at, Tech News Leader, Digital Coin Price, Wallet Investor and Gov.Capital.
Tech News Leader has the most bullish projection among the four analysts (see table below).
According to Tech News Leader, "There is a chance that the average price of flux will rise to about $1.94 by 2021 if more investors are attracted to the idea. For 2021, the year can end with a maximum price of $2.00 with a minimum price level of $1.78." DigitalCoin held a less bullish forecast.
According to the flux coin price forecast from technical analysis provider Walletinvestor.com, the price is expected to rise to $3.77 in one year and continue to climb to $12.33 in five years' time.
Algorithm-based price forecaster Gov.Capital's Flux price prediction is the least bullish of all the websites. It expects the average Flux coin price to be $1.29 in a year's time.
Note that Flux predictions can be wrong. Forecasts shouldn't be used as a substitute for your own research. Always conduct your own due diligence before investing. And never invest or trade money that you can't afford to lose.
Flux coin is receiving investor interest because of its platform providing decentralised cloud infrastructure services in an emerging Web 3.0. Several analysts hold the view that flux coin could be a good investment as the average prices are expected to rise in the next five years.
Whether Flux is a good investment for you depends on your personal circumstances and risk appetite. Cryptocurrencies are high-risk, highly volatile assets and Flux crypto price predictions shouldn't be used as a substitue for your own research. Evaluate the level of risk you are prepared to accept before investing, and never invest money you cannot afford to lose.
Some analysts expect Fllux coin prices to go up in the next five years. However, analysts' forecasts can be wrong and have been inaccurate in the past
The week ahead update on major market events in your inbox every week.
Got a trading idea? Try it now.
Most traded
Why Capital.com?
Simple and intuitive platform
No commission
Competitive spreads
Join the 380.000+ traders worldwide that chose to trade with Capital.com
1. Create & verify your account
2. Make your first deposit
3. You're all set. Start trading
CFDs are complex instruments and come with a high risk of losing money rapidly due to leverage. 83.45% of retail investor accounts lose money when trading CFDs with this provider. You should consider whether you understand how CFDs work and whether you can afford to take the high risk of losing your money. Risk Disclosure Statement
The value of shares and ETFs bought through a share dealing account can fall as well as rise, which could mean getting back less than you originally put in. Past performance is no guarantee of future results.
Risk warning: transactions with non-deliverable over-the-counter instruments are a risky activity and can bring not only profit but also losses. The size of the potential loss is limited to the funds held by us for and on your behalf, in relation to your trading account. Past profits do not guarantee future profits. Use the training services of our company to understand the risks before you start operations.
Capital Com SV Investments Limited is regulated by Cyprus Securities and Exchange Commission (CySEC) under license number 319/17. Capital Com SV Investments Limited, company Registration Number: 354252, registered address: 28 Octovriou 237, Lophitis Business Center II, 6th floor, 3035, Limassol, Cyprus.